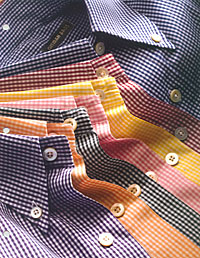 If you're not sure about what type of checked shirt will fit you, the failsafe choice is a gingham shirt -- small checked cotton blend shirts. This type of shirt works for any body-type.
Don't be afraid to try out other colors. Blue is a staple, but shades of lavander and indigo are the current must-haves.
The other thing that works for ginghams is that it works for both business or casual.
Pair it with gray trousers and a slim black tie and you're ready for your next meeting. Ditch the tie, buckle on your military belt and trade your leathers for sneakers to welcome the weekend.
Should you fold your sleeves? It doesn't matter, but the weather will usually dictate this one.